The Early Years
The Dunedin Wind Band was formed in May 2006 by our former conductor Sarah Naish and 11 players, with the idea of creating a relaxed, fun, friendly band for wind players of all ages and abilities. From small beginnings the Band has grown to approximately 50 playing members.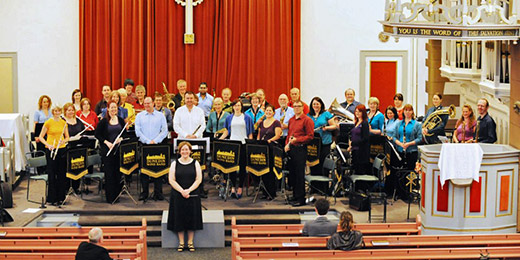 Dunedin Wind Band in the early years.
A Typical Year At Dunedin
The Band typically performs at least 2 concerts per year, at Christmas and in the summer. In addition, we hold several 'Play Away Days' each year, where we are able to spend a whole day working on new material, and refining pieces.
As a Community Wind Band we have also supported several local charities with fundraising concerts. We have also performed at Christmas-time in the past for the residents of St. Columba's Hospice and at Vue Cinema for the premiere of Star Wars.
The Band performs music to suit a wide range of tastes, ranging from film and big band music to Scottish folk and original concert band music. As long as the music is entertaining for the audience and fun (sometimes challenging!) for us to play!
Covid Times
Covid restrictions hit us hard as a community wind band. Rehearsals went online, led by our enthusiastic and creative MD. We used this time to practice pieces 'together' over zoom while playing along to recordings.
In Autumn 2021 we finally got the band back together in person, resuming in-person rehearsals (albeit without coffee breaks and the usual seating arrangements!). At Christmas that year, the band performed for the first time since the pandemic.